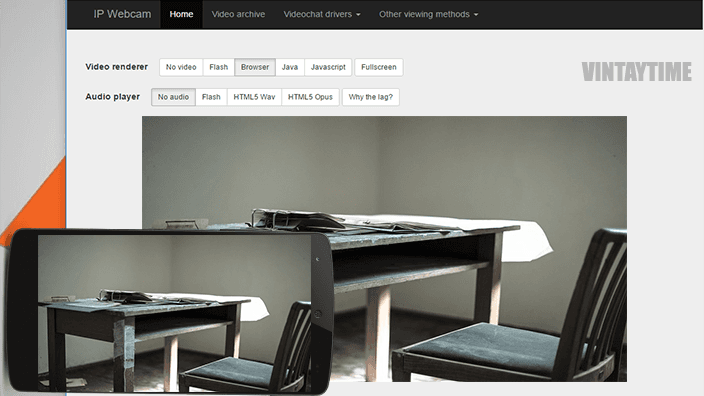 This is the best solution for desktop users because the laptop has already inbuilt webcam. Remote connection between PC and phone is really a cool thing, using your Android device you can remotely control your computer: mouse, keyboard, access files and more. Here, we are going to control the camera of android from the PC, which is slightly differs than the remote control. Capture photos, record videos directly from computer. Users who have a webcam, can also make use of this trick because webcam cannot stay far to your PC, you need to walk with your laptop or USB webcams can go far depend on the cable length. Android camera can go far as long the WiFi signal is connected, this is pretty much better.
Quick Requirements
There is not any advanced requirements, I only start with the requirements because desktop users face some problems while connecting to android camera over WiFi and the reason is some minor things users forget to configure or install. Here are all requirements:
Your PC and Android must be connected to the same WiFi
For desktop users: WiFi adapter (Connection may be didn't work on Windows 7 or 8 without an adapter, but in Windows 10, it works without adapter)
IP Camera adapter software (to make video chat and more)
Install App & Start Server

|
IP Webcam is an app that makes possible the use of android camera as a wireless PC webcam. Not just a camera, your phone microphone will also goes connect and this works completely like a wired webcam. There was a pro version of the app is also available, you can buy if you want to record video without watermark and more.
→After installing the app, open it and scroll down to the last. Click the Start server.
There is no need to install any server software on PC, it only controls the camera, not give any remote command to your computer.
Start using the camera on PC
After starting the server on IP Webcam app, your phone camera started on your screen and you only need to put the URL shown on phone's screen to PC web browser. You can also configure clients on PC to stream webcam instead of a web browser, for ex: VLC media player etc.
Using Browser – Open chrome or internet browser on PC and paste URL shown on your android screen, looks like: http://192.xxx.x.xxx:8080.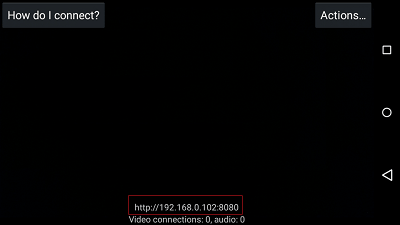 Select any option from Video renderer and Audio player. I use Browser for video rendering and HTML5 wav for audio. Click the Fullscreen button and F11 to make your webcam run fully on your monitor. Just below, you can see all control over webcam including capture photos, record videos and more. Your recorded videos and all saved in video archive shown in the top navigation bar.
Using Client – You can change your viewing methods by using a supported client on a PC. From the top menu bar, click other viewing methods and select your favorite client.I use VLC media player, you can try same: Open VLC Media Player>Click Media>Open Network Stream>Paste stream URL>Play.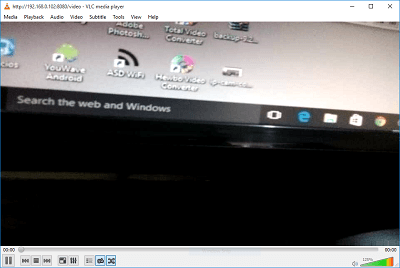 Configure Webcam for Video Chat and more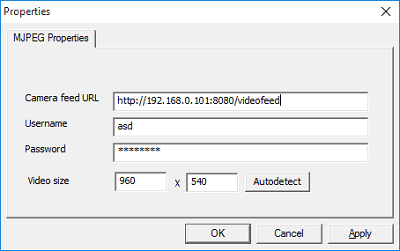 To make video calls on Skype or use camera as a regular webcam, first you need to install IP Camera Adapter on your PC. After installing, open the adapter(C:\Program Files\IP Camera Adapter\Configure.exe) and configure it. Open your IP webcam page( http://192.xxx.x.xxx:8080) in a browser, click Videochat drivers and select IP camera adapter to see how to configure the adapter. Fill details and save.
---
FAQ
Can I use android camera from a different phone?
Yeah! You can!!. Enter the IP webcam URL (http://192.xxx.x.xxx:8080) in phone web browser and select video render option, else see instructions on other viewing methods. Note that both of the phone should be connected to the same WiFi router.
IP Webcam use internet or only WiFi signal?
The app only uses WiFi signal, not internet connection. If your LAN disconnected, your webcam still active.