While working on a computer, we can improve our working way by many ways and one of them is remotely connect your smartphone with your Windows computer and now you can move mouse from your touch screen, type words from your android keyboard and control music from your phone with just one click. Not just remote, you can also access your local computer drives from your smartphone. For many peoples remote makes their working good, and for many it is like playing with my computer. The connectivity between remote connection is not through internet, because internet connectivity is not static and that's why the remote connection works better over WiFi or Bluetooth only.
Requirements:
WiFi or Bluetooth Connectivity on Both Computer and Android
Remote Server Software on your Computer/PC
Remote Control App on your Android
WiFi Hardware or WiFi USB Adapter Available for Desktop/PC, not for Laptops
Your Android and Computer both connected to the same WiFi network
---
Install a Remote Android App
First, you have to make a selection between some Remote control android apps from Google play store and install any one of them or try listed below. Actually, there are so many apps that can remotely control a Windows computer, but some are free and some are paid. For you, I first select free remote control apps and find some best apps from them so you didn't need to test multiple remote apps from the store. Simply Select, and install now:
Unified Remote

Remote Control Collection
Remote Mouse
---
Download and Install Server in your Desktop
To create a connection between your device and computer, you also need to install the server software to your PC/Desktop/Laptop to work remote connection. The server download link you will see on the official website of the app, or see the description of the app in the store. For the tutorial, here I use Unified Remote to show you how you can install server software.
Visit official website: Unifiedremote.com
Go to Download Page
Choose Windows Platform and your download is just started
Install the Setup
After, Automatically Server goes Run and you can see a balloon message from the Taskbar (see above snapshot).
Allow Firewall if Prompt
---
Connect From Your Android Device
After the Server successfully started on your computer, now you can open the Unified Remote app on your Android device and let app will auto connect to your computer.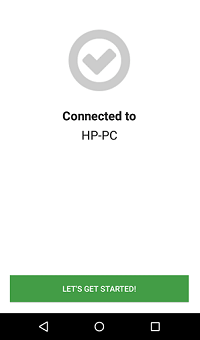 If not auto connect, you can also do connect manually, by opening the left menu drawer, select Servers> Click the "+" icon> Enter the server details> save> connect.
---
Choose Remote Options and Enjoy!
You will see there lot of remote options on the screen, simply connect to any of them, like: Mouse, Keyboard, Music, Power and more. Unified remote is a Free app, but you don't get all features until you paid for the app. For me I didn't need pro features because I only remote mouse.
Remote Mouse and Keyboard – Simply click the Basic Input option, and now you can control basic inputs like Mouse, Keyboard and you will also see some computer keyboard buttons like:  WIN, CTRL, SHIFT and more
Control Media and Power – Media remote will control your media players which you're currently running or not running. Manage volume buttons and more. Power have options which can lock, shutdown, restart and control your computer power commands.
Switch between running apps (Available on Remote Mouse app) – Just like a Windows Alt+Tab, you can switch between running apps with just one click. This feature available on Remote Mouse app i listed above at no. #3.
---
Manage Files on your Windows Computer
Some remote apps also give you ability to access your local drive files, folders and you can transfer files between your computer and Android anytime. Unified Remote have an option to access files of your PC drives. If you're now connected through Unified remote app, then simply select the File Manager and all of your Computer's drives will shows right on your Android screen.
---
FAQ
I unable to remote my Desktop, but working on a Laptop?
Actually, in PC/Desktops manufacturers didn't provide WiFi connectivity because of reasons like: Desktop only fixed at a place like home and more and in Laptops WiFi hardware is available. Your desktop is connected with a LAN cable which cannot transfer data, only send and receive internet connectivity. This time you can buy a WiFi USB Adapter for your PC/Desktop, which comes at very cheap price.
Is this continuously remote connection will drains my battery power?
If connectivity is over Bluetooth then the remote will sure drain your battery power, but over WiFi it doesn't eat power like a monster. You can read how to Save Battery Power on Android.