Google Now is a launcher you can't forget when using a Android device. You can voice command and do tasks that supported on Google Now. Google knows what are the common tasks a user always does in our device like Messaging, Call, Maps, Music, Search and more. When saying commands related to the app, I found voice commands are mostly work with official Google apps and some of the non-Google apps. You can't make a custom command in Google now else use some other third party app from play store to make a custom voice command. I make a list of essential Google now commands below, that every Android user should know about.
Install→If your device doesn't have Google Now, Get it now.
Platforms→ Google Now is available on multiple platforms, below platform shows support of the voice command only on given platforms.
Set a Reminder
Platforms: Android, iPhone, iPad
This voice command set a reminder to remember your future works at a time, place. You can set reminder like calling someone at a time, For Example – Ok Google "Remind me to call Marry at 8PM". Also, set reminder when you at a place. This required your device must enable location(settings>location>On) to detect your current location. For Example – Remind me to buy Fruits at Green Garden.
---
Post to Google+ "Your Message"
Platforms: Android
Google+ comes in the list of best social networking sites in the world. You can use Google now to post on social network like Google+. Example – Ok Google "Post to Google+ that I'am going to New York City this weekend". Your post goes live as you confirm. For more social network post voice commands, Google It. This command is a part of Google now communicate commands.
---
Play Music "Song/Album name"
Platforms: Android
When I want to hear some music, I usually say Ok Google "Play Music" and a song shuffle from my library. It's a general command for music app, let go some advance like: Ok Google "Play Music Bruno Mars". This returns your music player app with artist Bruno Mars songs list and auto play right on your screen. You can also say album, song name directly to Google now.
---
Send a WhatsApp Message
Platforms: Android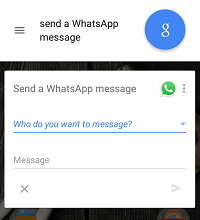 Google now also supports actions with apps, which you can voice command to apps like Walmart, Viber, WhatsApp and more. If you try the command: Help, it will show you all Google now commands and most of are made for Official Google Apps. Here, Google takes users opinion very seriously always, that's why voice commands are also made for Non Google apps like WhatsApp. Example – Ok Google "Send a WhatsApp to Mark, Bye Bye"
---
Turn on my flashlight
Platforms: Android
Here, Flashlight is a part of device settings command for Google now. There are also some other cool settings voice actions also available, but this one is my favorite. Example – Ok Google "Turn on my flashlight" or "Turn my flashlight off."
If your device didn't have a flash light, then Google reply you an error message "This device doesn't have a flashlight."
---
Take a Selfie
Platforms: Android
It is a unique voice command to open your camera and capture a photo. You can also say Ok Google "Take a Picture", but its sounds cool: Ok Google "Take a selfie". A fact you didn't get here that Take a selfie will open front-facing camera and Take a picture open primary camera.
---
Where's the closest restaurant
Platforms: Android, iPhone, iPad, Chrome
For maps and navigation, Google now has multiple voice commands, but one of my favorite is finding places very closest to me. I don't like long drives, that's why I always use Ok Google "Where's the closest shopping mall?".
This action is made for finding nearby places from your current location. You can use this command on any Google Now Platform, including PC Chrome.
---
Send an E-mail
Platforms: Android
For Work purpose, you don't need to use Google now to send an E-mail. Sending a quick e-mail is perfect with voice command like: Ok Google "Send an email to Sam, subject confusion, message, I was confused in writing". You can skip subject when sending, but still message required. You can't say a custom email like email@example.com instead of a name. If you didn't yet add e-mail addresses in your contacts, do it now to send mails with voice commands.
---
Set Timer
Platforms: Android
You can set a timer instantly with your voice, Example – Ok Google "Set timer for 5 minutes and 30 seconds". A timer is a common task and you can perform this task by searching on Google also and it is a part of Google Tricks.
---
Where's my Package
Platforms: Android, iPhone, iPad
If you have Gmail app installed on your device, then you can track your online shopping packages with just a voice command. Google shows package information using the e-mail data received from a site like e-commerce, not from the courier company. Example – Ok Google "Where's my package?". If you're using Google Now from a time period, you found Now cards of packages are also shown at Google now launcher screen.