Firefox add-ons are very similar to chrome extensions and apps. These are the tools that you can install in your browser and extend the functionality of your web browser. Mozilla has several types of add-ons like Extension, Plug-ins and more. You can directly explore and search all types of add-ons directly to Firefox's Add-ons store. Even you can use these tools in your Android device, just install Firefox for Android on your phone, select tools and then Add-ons. Google didn't provide browser extensions for chrome mobile but may be the feature come soon. I find the best and essential add-ons for you and after wasting some time I found some add-ons are only made for Firefox, not available in other browsers store.
1. YouTube High Definition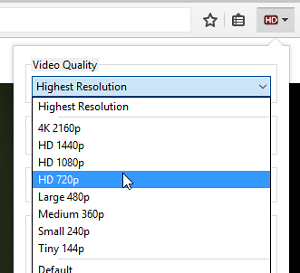 With this extension, you can set the default values for YouTube player permanently. Depending to your internet connection speed, YouTube automatically change the quality of the video currently playing, but after setting values on this YouTube High Definition add-on, all of your videos in FireFox will stream in HD or according to your selected options. Even you can turn off Annotations, Expand player size, set default volume automatically. After adding the extension, you can configure it from icon shown on the browser's toolbar.
2. iMacros
iMacros is a tool for everyone, but very perfect for web developers & designers. If you're tired filling forms online daily and repeating tasks in the browser, then iMacros will help you to record your task and automatically repeat the task with just a click. This is the most essential Firefox tool for employees working online. Even you can record email, username and passwords and type it using iMacros.
3. Stylish
Stylish is the most popular and known browser tool on every platform. I use this in my Firefox to change my favorite websites design, including Google.com, Facebook.com and more. You don't need to write design, you can directly install the website theme and design from userstyles.org. You can also customize the Firefox elements with this extension.
4. FVD Speed Dial
Speed dials in the browser is the most known feature, and with FVD speed dial you can customize and manage dials in modern style. I love the way how I apply a custom background image to dials page and even I can customize dial icon, size, links and more.Customize once and use your dials anytime, anywhere with Sync feature. Once you install FVD in your Firefox, your homepage automatically replaces with the speed dials page. You can change it from settings.
5. Gmail Notifier Plus
From your same browser window, Gmail Notifier gives you the complete email experience with writing, reply, forward, inbox and more possibilities. Just like a Facebook notification, a mail icon shown on your toolbar to give you new email notifications as arrive. The only thing you need to do is add the extension and sign in with your gmail account.
6. Adblock Plus
In the world of bad internet ads, you can block all in Firefox using Adblock Plus. Adblock plus is the most popular add-on in the Firefox store. Even I'am using Adblock in chrome to block ads in chrome. This extension can block all good and bad ads, including sites like YouTube, Facebook, Google and more. You don't need to block Google Ads because Google approve every single ad campaign by reviewing them and they didn't allow spam. Google ads some time very informative and it loads according to your taste and location.
7. Video DownloadHelper
This is the Downloader tool that detects streaming videos from web pages and give you ability to save on your computer. I love Video Downloader extensions because they are very easy to use compared with software for PC. Video DownloadHelper only detect videos from supported sites. You only need to open the video in Firefox, and click the icon of the extension shown on the toolbar. If the site stream videos in different qualities like HD, Full HD, then separate download links detects and shown to you.
8. LastPass Password Manager
LastPass is the best way to store login passwords so you can easily login to shopping sites, social media and more without wasting time in typing credentials. All of your credentials are stored in your computer, not sync. When registering at sites, sometime there may be the more number of input fields required, using form fill profiles feature you can create a profile of input fields and save values, so next time when you can import all the field values to the registration page.
9. Tab Preview
Using Tab Preview, you can see the small preview of opened tabs on mouse over tab. This is the coolest feature for browser, even companies should give an option to active this feature officially. The preview is not very important, but this is good for folks who work in browser with more tabs opened.
10. Classic Theme Restorer
Old elements of Firefox are restored and customize using the extension. With the huge amount of options in classic theme restorer, you can customize the whole browser, including tabs, UI, buttons, text and more. After installing, restart your browser and go to a Add-ons page. Now select the option page of the extension and start customizing the Firefox.